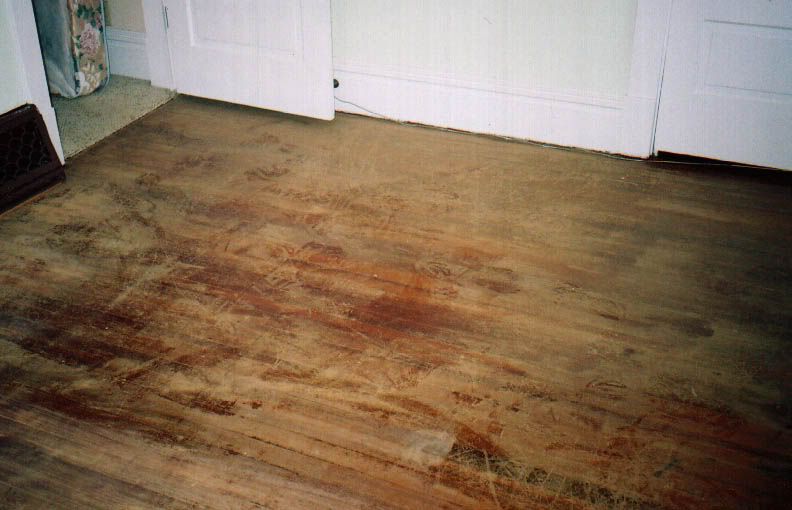 Preparing floors can be time consuming and dusty task
Wooden floors are glorious things. They have beautiful feel that shows the history of the wood used and reflect the wonders of their individual growth and characteristics. However, if you are using a treatment (like the wonderful Osmo Polyx Oil) it is really important to get a consistent finish on the floor first. A typical application requires a final sand of around 120 grit.
If you don't get a consistent finish then the oil will not be absorbed evenly and this can lead to a number of problems. Recently a customer used new timber on their floor that had not been sanded over after laying. The timber had been put through a planer that had created different finishes on the planks. In some areas the timber had effectively been polished by the planer and in other areas the timber was still quite rough. The new Raw Polyx Oil was then applied.
The Raw product has a minimal amount of white pigment in it to counteract the honey effect associated with oil treatment. It is also designed to have no visible finish, thus making the wood appear to be untreated – raw, if you like.
What happened was that the rough areas allowed the product to 'pool'. This has led to these areas appearing to be milky as the pigment was concentrated in here. Also the polished areas retained their polished appearance as the oil could not be easily absorbed into the wood in these areas. The outcome has been a patchy mix of sheens and colours. Obviously not ideal on a lovely new oak floor.
So it is really important to ensure that the floor has been sanded consistently across the whole surface. Any product will then be absorbed into the timber in a regular manner and hence give an excellent and predictable finish. This is really important where you have a pigment / colour involved in the process.
So time spent in getting this right will bring rewards in the longer term, so build in the time and expense into your equations to allow for good preparation when renovating or installing a new wooden floor.